MALTSTERS ASSOCIATION
The photograph is of the Executive Committee of the Maltsters Association of Great Britain (MAGB), a body on which I am privileged to serve. We meet just four times a year, and, for the first time, I hosted their summer meeting at Warminster, on June 6th. Those in the photograph (apart from me) represent more than 85% of the UK's total malt production – 1.8 million tonnes annually, valued at more than £1bn. – so I was particularly anxious to impress. Suffice to say, the sun shone all day, the Maltings and the garden looked resplendent for the occasion.
The MAGB was originally formed in 1827, labelled the Association of Maltsters of the United Kingdom. It came about following the implementation of the latest round of punitive rules and regulations governing the Malt Tax, when the industry finally decided that it was absolutely necessary to unite in order to stand up to the over zealous legislation from the Commissioners of Excise. Very quickly its membership exceeded 1800 practising Maltsters. Today, however, the MAGB comprises a membership of just 11 companies, with a total work force of well short of a thousand. 
In 1827, with so many maltsters, and so many people engaged in malting, everybody knew what malt was. Today, not anymore. Sadly, generally speaking, we are an industry of the Shadowlands!
FARMERS AND BREWERS CO-OPERATION
On the 20th June, our MD drove across to West Sussex to host a meeting of farmers and brewers anxious to promote the 'local produce' label. Edward Tupper started growing Maris Otter barley for us on his farm near Petworth, West Sussex, just 2 years ago, and Miles Jenner, managing director of long established brewers Harvey's of Lewes, has always said if you can produce my favourite barley variety local to the brewery, then count me in.
So, an inspection of Edward Tupper's second crop of Maris Otter barley by Harvey's brewery staff was called for. This enabled the farmers and brewers to engage in an open and frank discussion about all the challenges each faces – for example: falling beer consumption (brewers) and impending withdrawal of financial support (farmers).
It was agreed the meeting was enormously valuable, and that there should be two more – the next one at Warminster Maltings, and the final one at Harvey's brewery. All sides strongly felt that we need to work much more closely together in future, in order to see our way through what is currently a very uncertain future.
CELEBRATION
Unfortunately, our first summer tea party in June was well and truly rained off, but at our second attempt on Wednesday July 10th, the sun shone for us all afternoon, and we did manage to entertain 26 tea partygoers.
This photograph is that of one of our guests who posted this image on Instagram. If you have never been to one of our 'Teas in the Garden', what more does it take to tempt you along?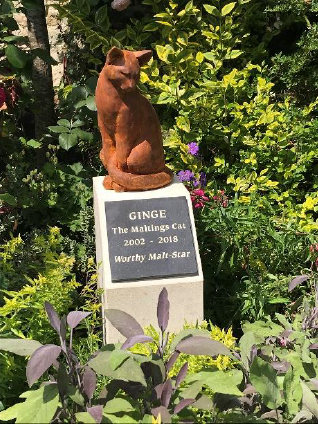 IN COMMEMORATION
Finally, we have at last been able to erect our permanent memorial to our faithful, much missed and irreplaceable cat "Ginge". This sits in the garden, above where he is buried, and close to one of his favourite vantage points.
I would not be at all surprised, if in due course, on a perfectly still and moonlit night, from here "Ginge" just might walk again!
Robin Appel